Bruxelles - Beirut
2013 / 19


Archives
Summary of work and techniques used
in these last four years. The reflect also
of a multitude experiences in
Belgium and Lebanon.
Rotring Pen - Aquarelle

2014 / 15 Beirut
-

Artisans
Market
Artisans market is thirty artisans,
designers and farmers who come together
in the village of Saifi in Beirut to combine
craftsmanship and innovation in
manufacturingcustomized products.
I realized their visual identity

Pencil - Rotring Pen

2015 / 16 Beirut
-

Samadal

I wrote and illustrated for two
Samandal publications.

"Geography " 2015
"It will stay between us " 2016.

Samandal is an organization
non-profit based volunteer
and dedicated to promoting
the art of comics in Lebanon
And in the world.
Based in Beirut,
15 magazines are published.
Samandal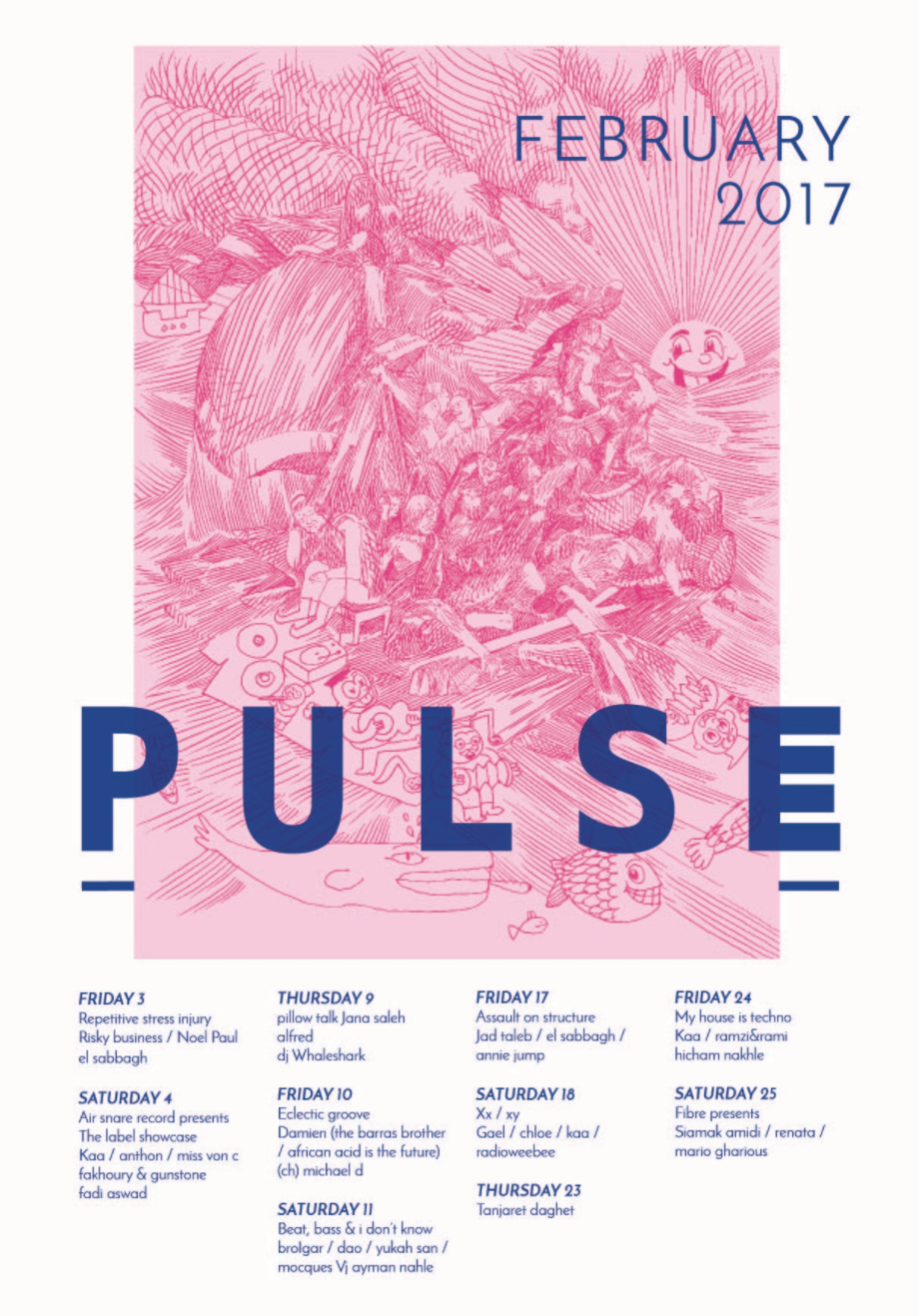 Rotring Pen - Digital coloring
2016 / 17 Beirut
-
Yukunkun Club
Nestled in a side street of Gemmayzeh
in Beirut, this little undergroun club
gives off a mood alternative
with a local punk revival.
Maybe think of old school clubs
from New York or London Soho
with a slight Lebanesegrunge.
I made a series of illustrations for
their programs and their posters
the concert.
Pencil - Rotring Pen - Gouache
2016 / 17 Beirut

-
Solidere
Solidere s.a.l. is a Lebanese company
responsible for planning and
redevelopment of the central
district of Beirut since 1990.
I realize wit them a series
wall painting in the streets
of downtown Beirut

And also several visual
for their publications.

Rotring Pen - Digital coloring
2016 / 19 Beirut

-
Samir
Publisher
Samir Editor is a Lebanese publishing
house who publishes youth, school, extracurricular and FLE books in French,
Arabic and English.
I illustrate and illustrate for many
of their publications, such as:

Manual CE1, Manual CE2,
Boussolle Series, Series Vive ...
Samir éditeur

Rotring Pen - Digita Coloring
2016 / 17 Beirut
-
Hotel
Bristol
The Bristol is a famous luxury hotel
5-star hotel located in Verdun in Lebanon,
in the heart of Beirut Le Bristol opened
its doors in 195 and is famous for
its architecture and its guests
I realise several illustratio for
the visual identity of the hotel.

Acomic is in progress.
It will
be distributed to customers
for October 2019
Rotring Pen
2016 / 19
Beirut- Bruxelles
-
Privet Order
illustration and composition
realized for private orders in
Lebanon and Belgium.
Aquarelle - Rotring Pen
2017 Bruxelles
-
24h01
Review
I illustrated an article
written by Joanne Bergé
"I saw more dementia here
than elsewhere"

for the ninth
review of 24h01.

24h01 is a biannual Belgia review
related to journalism an report
created in August 2012.
It is sold in Brussels and
Wallonia, as well as in Paris
and in the north from France.
Digita Coloring and drawing
2015 and 2018
-
BBC Video
I realise two video with the Journalist
Eloise Alanna videos for BBC.
/ 1 /

The bride and groom
of the revolution


T
ens of thousands of Syrians have
been taken by the authorities
during the country's civil war,
their families often not hearing
from them for months.
Human rights lawyer Noura Safadi's
husband was a famous activist.
His name was Bassel Khartabil Safadi.
T he couple met at a demonstration,
quickly falling in love before
Bassel was detained.


/ 2 /
I escaped ISIS to avoid
killing my friends


Thousands of teenagers in Syria
have witnessed war and death
first-hand, but even trying
to stay alive can leave lasting
damage to their mentalhealth.

BBC Arabic went to Beirut to
meet Mohamed, who briefly
followed so-called Islamic State.
His name, face and voice have
beenchanged for his safety.